Recreational fishing surveys
2016 recreational fishing survey - make your catch count
The 2016 recreational fishing survey is under way from 1 March 2016 to 28 February 2017.
The survey covers greater Darwin and involves face-to-face interviews at selected boat ramps between the Adelaide River mouth and Dundee Beach. This area was chosen for monitoring as it represents the region with the greatest recreational fishing pressure and will provide a reasonable estimate of the impact on vulnerable reef fish species.
The survey takes only a few minutes to complete and interviewers are clearly recognisable by their shirts and identification cards. If you are approached by an interviewer at one of the boat ramps you are encouraged to participate in the survey as the information collected assists the careful monitoring of our fish stocks and will help to ensure their long-term sustainability.
This year's survey is the third consecutive year of data collection in this area and will provide valuable trend data concerning the health of our valuable fish stocks.
Map of survey area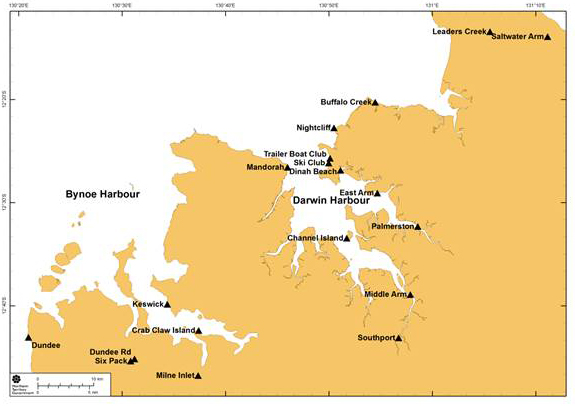 2009-10 survey background and results
In 2009-10 a major recreational fishing survey was carried out across the Territory. The report from that study represents the third comprehensive assessment of recreational fishing in the NT. In each of the studies, the main survey instrument has been the same: an off-site telephone/diary survey with stratified random sampling from telephone listings in the White Pages and expansion of all survey results to Australian Bureau of Statistics estimates of the non-Indigenous resident population. Fishing activity by interstate and overseas visitors is also assessed in these surveys.
See the Survey of recreational fishing in the NT 2009-10 report (2.7 mb)
Last updated: 27 March 2018